be first!
MBP #20: How Todd Tresidder Used Great Content to Build a Successful Financial Coaching Business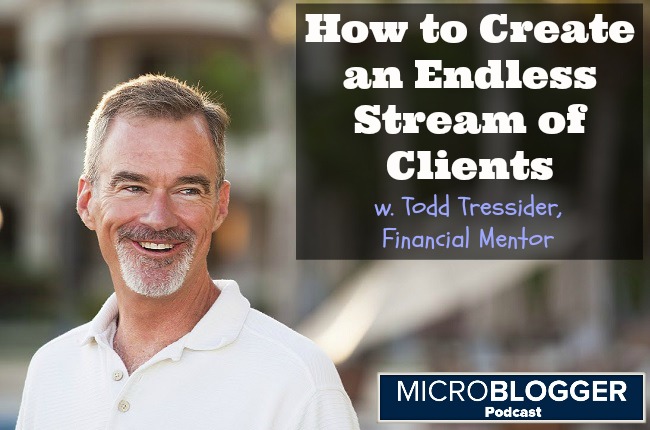 At 35, Todd Tressider sold his share of a hedge fund and decided he'd become a financial coach.
He registered a domain, FinancialMentor.com, in 1998 and has, over the last 16 years, built up a very successful practice that includes five published books.
What I love about Todd is that he's always trying something new and innovative. Sometimes it works out (like registering FinancialMentor.com!) and sometimes they don't (we discuss a few things that didn't meet expectations), but that hasn't stopped him from pushing forward.
The key is to keep learning and growing, a mantra that I fully believe in. If you're a coach of any kind, you can learn a lot from Todd's experiences.
What will you learn in this episode:
How Todd become a financial coach
Why a financial coach is different than a certified financial planner
His novel client conversion process – an application
How he focuses on the person, not the product
How he got his first few clients (and how he'd do it differently today)
He shares his blogging strategy – Blind men and an elephant
He discusses his future strategy of taking his coaching plan and turning it into a membership program – "7 Steps to 7 Figures"
How he uses guest blogging and calculators to gain traffic and client leads
He discusses the five books he's written, including why he's publishing on Kindle
Podcast: Play in new window | Download () | Embed
Resources and links mentioned in this chat:
How to subscribe
There are two main ways – Stitcher and iTunes.
iTunes


Simply click on this link and you'll be taken to the page where you can subscribe.
Stitcher
Here's the link to the Microblogger Podcast where you can subscribe to the Microblogger podcast via Stitcher.
Finally, if you aren't using either service and prefer RSS, here's our RSS feed.
Quick favor…
Tell everyone you know that this is a great podcast… unless you think it sucks. Please tell me and I'll try to make it better!
It would mean a lot to me if you could leave me a review and a rating on iTunes, it makes a big difference and helps others find the show! To leave a review, click here and thanks so so much!
The following two tabs change content below.
Jim
In 2005, I founded a personal finance blog (Bargaineering.com) that became successful enough that I quit my career as a software developer in the defense industry. It is my goal to share everything I learned so that you can do the same - build an online business that let's you pursue your passion.