4 Comments
Save Money by Deleting Unsubscribed Emails
Aweber?

Do you have a lot of unsubscribed emails on any of your list?

If so, they might be costing you money.

Actually, they're definitely costing you money, the question is just how much.

Aweber's pricing is based on the total number of subscribers, which includes unsubscribed emails. That means if you have 500 subscribers and 5 unsubscribed, your total is 505. Those extra 5 unsubscribed emails pushes you into a higher pricing tier which will cost you an extra $10 over the base $19 per month.

How to delete your unsubscribed emails from your list
It's easy, log into your account and find Manage Subscribers within the Subscribers drop down menu.
One of the Filters to the left is for Unsubscribed, click on that to reveal the list.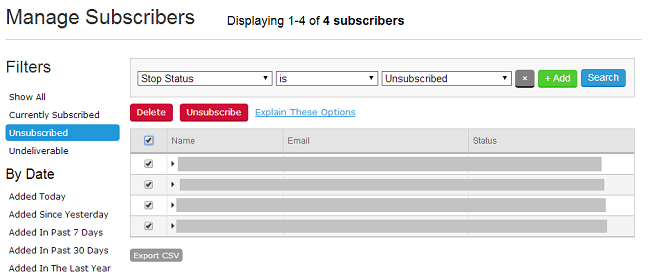 Check them all, Delete, and you're all set.
What if I'm not on Aweber?
Check to see how your provider calculates its pricing. Some charge you for unsubscribed emails, some don't.
For example, if you're on Mailchimp, you don't need to do this because unsubscribed emails are not counted towards your total. They use a different pricing scheme that calculates your peak total and uses that to determine your cost.
Would I ever want to keep unsubscribed emails?
I can't think of a reason but if you are unsure, you can always export it and save the file somewhere safe.
No one wants to pay an extra $10 or $20 for nothing, so remember to periodically go into your lists and delete all the people who foolishly unsubscribed.
How many emails did you delete?
The following two tabs change content below.
Jim
In 2005, I founded a personal finance blog (Bargaineering.com) that became successful enough that I quit my career as a software developer in the defense industry. It is my goal to share everything I learned so that you can do the same - build an online business that let's you pursue your passion.
4 responses to "Save Money by Deleting Unsubscribed Emails"